Sex, drugs… and bugs
On this occasion, I will talk about one of the few science fiction movies, which was classified as only for adults: Naked Lunch.
In 1991, David Cronenberg made this movie, based on a novel of the same name, written by William S. Burroughs. Today, it is considered a cult film.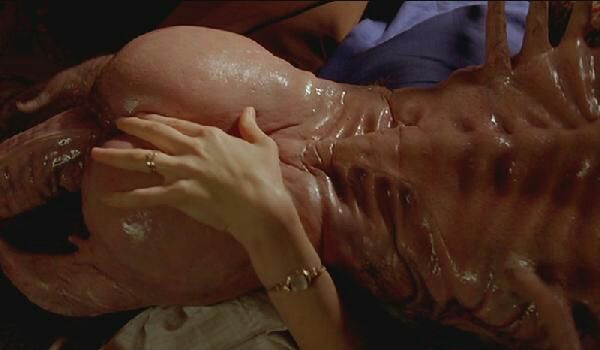 The trailer for the film begins with the voice of the author of the book saying that, when he wrote it, it was harshly criticized. They considered it disgusting, pornographic, unpublishable… But years later, Hollywood, in its infinite wisdom, turned it into a movie. So now we have it in bright colors and 30 feet tall.
To write the script for the film, they based not only on the novel, but also on other works by the same author, as well as on his biography. In this way they created a kind of metafiction, that is, they describe the creative process at the same time as the novel.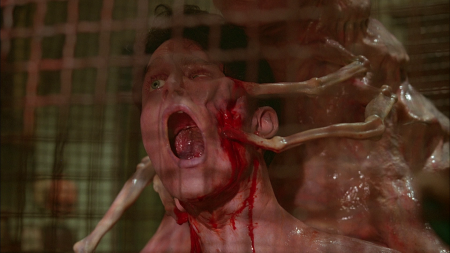 Reactions to the film were mixed. Some critics saw it as an excellent representation of the usual themes in Cronenberg's work: body horror, disease, the fusion between flesh and machine… But for this same reason, other critics saw it as a poor adaptation of the novel.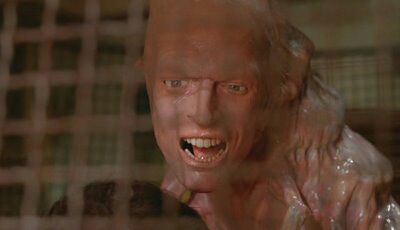 Before we continue, spoiler alert: If you're thinking of watching the movie, you should stop reading now.
The plot
William Lee is a bug exterminator, who finds out his wife is stealing bug spray from him to get high on it. According to her, it produces something like a Kafkaesque effect. A reference to "The Metamorphosis", perhaps?
Later, the police arrest Lee and, at the police station, he meets a giant insect who claims to be his boss and assigns him a mission. At first, Lee thinks he's hallucinating, because of a prolonged exposure to his bug spray. Lee must murder his wife, since, according to the creature, she is a spy for an organization called the Interzone. A conspiracy theory?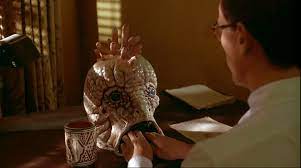 But Lee ignores the orders and skins the bug, in an attempt to stop the hallucinations. Later, he visits Dr. Benway, asking for help with his hallucinations. The doctor prescribes a medicine called black meat.
Returning home, Lee finds his wife in a compromising situation with his friend Hank. The situation leads to Lee and his wife trying to repeat the William Tell act. But Lee fails and accidentally kills his wife. Apparently, this is based on a true event in Burroughs' life: He and his wife were drunk at a party in Mexico City, they tried the William Tell act, the woman died, and Burroughs fled from justice. He was found guilty in absentia, but years later, the sentence was suspended. Apparently, the death of his wife caused him to start writing.
Going back to the movie
Lee runs away, and then meets a young gay man named Kiki. The boy introduces him to a strange creature called Mugwump. This being gives him a ticket so he can travel to the country where Interzone operates. Mugwump advises him to join Interzone since, after the murder, they will be the only ones willing to help him.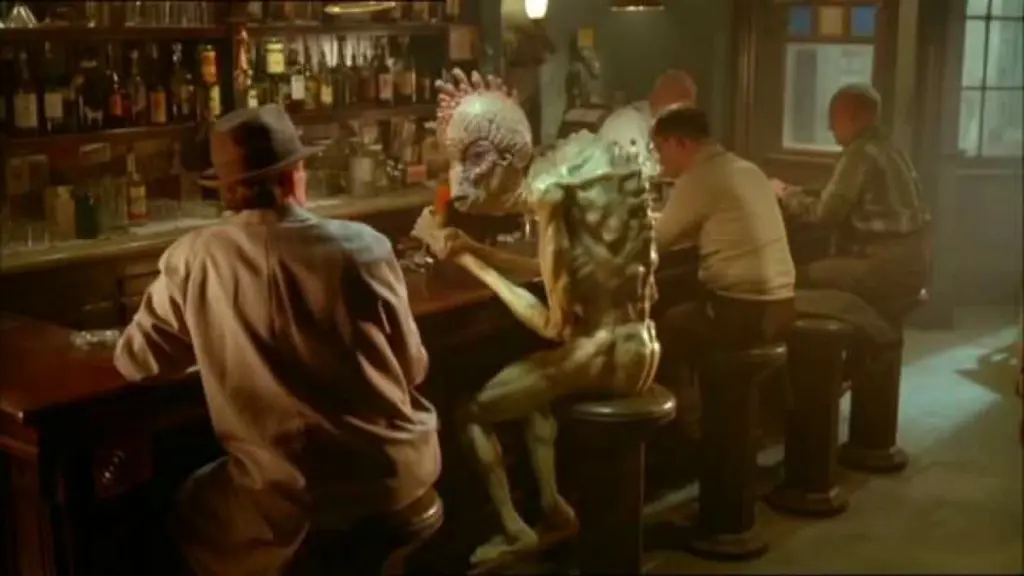 Later, at a pawn shop, Lee manages to trade the gun and bullets he used to kill his wife for a typewriter. He contacts Interzone and begins to write reports of what is happening around him. It is then that he discovers that the typewriter is actually an insect-shaped creature. This insect gives him advice on his mission.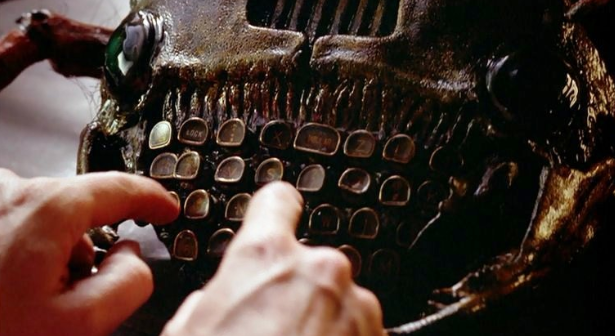 Later, Lee meets Tom Frost and his wife, Joan, with whom Lee falls in love. Coincidentally, someone called Clark Nova asks him to seduce her to get information about Interzone.
Finally, Lee discovers that the black meat is really the drug that triggers all hallucinations. Looking for Dr. Benaway, he goes, along with Kiki, to Yves Cloquet's mansion. Subtly, Lee offers Cloquet Kiki's body in exchange for information. Cloquet reveals to him that, to find Benaway, he must look for a woman called Fadela, since they are always together.
The scene for which it has the R rating
The typewriter tells him where to find Fadela and then it completely breaks down. Lee then arrives at what appears to be the Interzone base in that country. There he finds hundreds of creatures like Mugwump chained up. Next to them, several people suck a liquid drug from some protuberances on the head of these creatures, which seem like… you know what. These creatures, if I remember correctly, turn out to be aliens.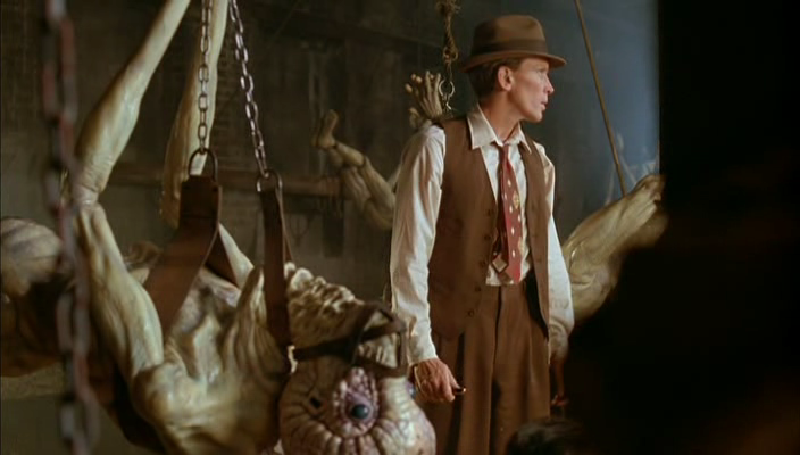 This is where Lee discovers that Benaway and Fadela are the same person. The doctor congratulates him on having come that far and asks what he wants in exchange for continuing to work for him. Lee only asks him to release Joan and the doctor agrees.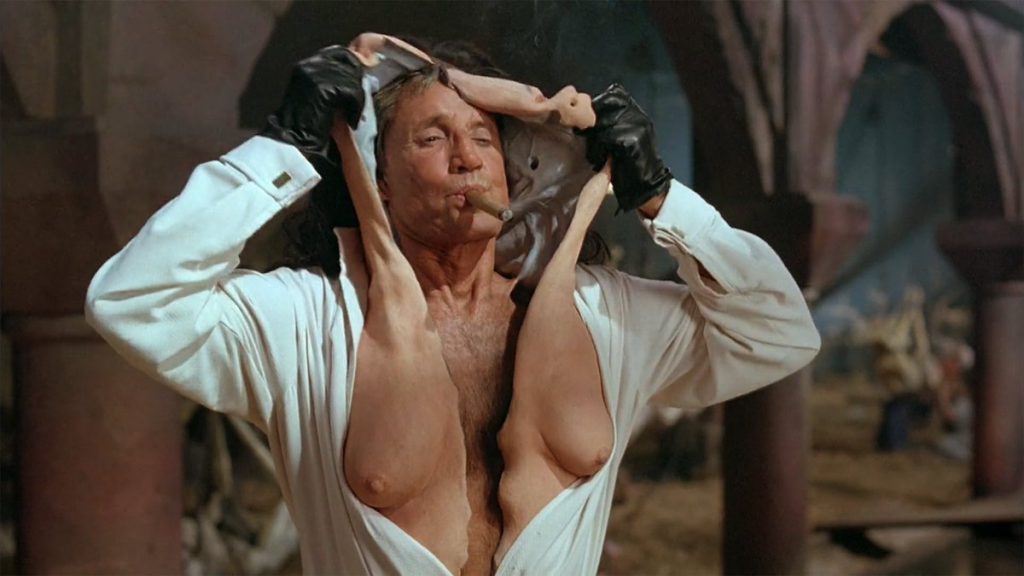 Lee travels with Joan to a new country on a mission, but the police stop them. Again, they try the William Tell act and Lee fails again, killing Joan in front of the police.
Here the trailer:
Bibliography
https://es.wikipedia.org/wiki/Naked_Lunch_(pel%C3%ADcula)
---
My comic book, "My First Job" is now available in my e-shop:
Also available on the following platforms:
---
---