Sint or a very bad Santa Claus
This time, I bring to you a version of Santa Claus that is not very friendly with children… or any other person for that matter: Sint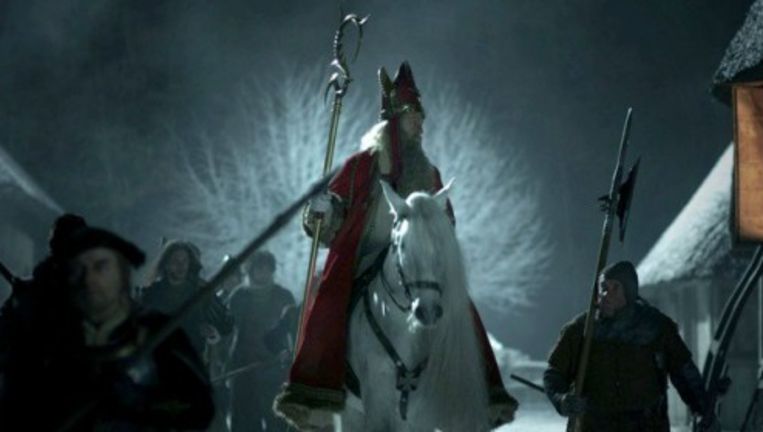 I liked this movie a lot, but I had forgotten its name. I found it again by chance, when I was looking for material for this month's Christmas horror special. I could not think of a more representative film of the genre: This film shows us the historical character in which Santa Claus is based, but in a much darker version.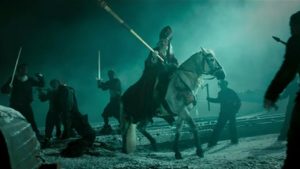 The premise
According to the movie, Sinterklass was really a corrupt bishop, in charge of a gang of Spaniards (I think they were pirates) who are collectively called Peter. Together they wreaked havoc in the towns of a certain area in Holland. On December 5, 1492, a group of villagers decided to rebel against them, basically by burning them alive. The bishop became Sint: a ghost with a burned face, just like his minions. These characters, also turned into ghosts. They renamed theese henchmen as Black Peters. This was, originally, because they were also burned. But later, tradition invented that they were helpers of Sinterklaas, who had their faces painted with soot, for getting into houses through chimneys.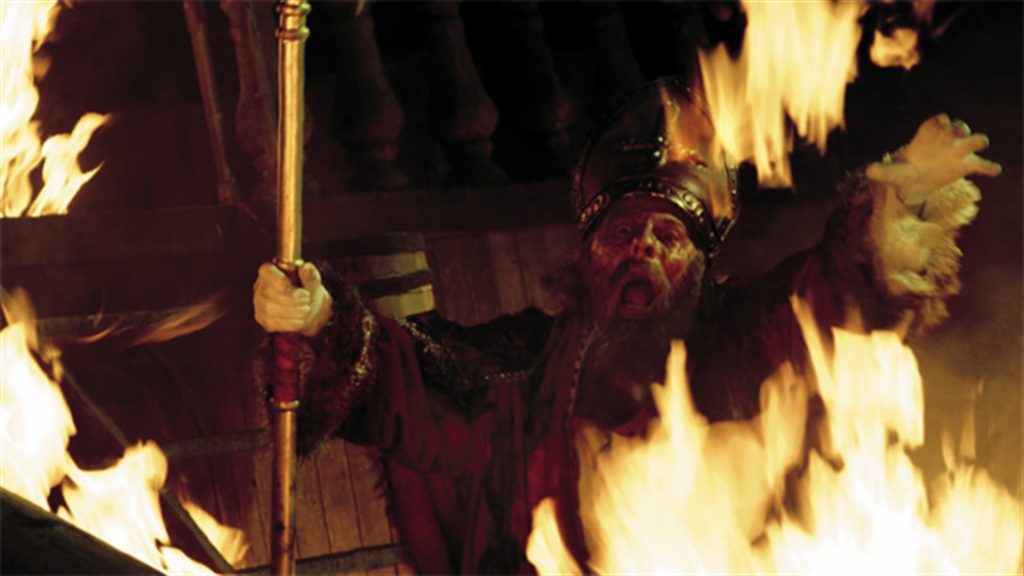 The general public does not know the true story and celebrates the tradition of Sinterklaas every December 5th. But in years when that date coincides with a full moon, the ghost and his minions roam the land and kill people. The bishop's staff that Sint uses as a weapon is striking. The Niklas' crosier has sharp edges and Sint can also use it as a spear. In fact, both Sint and his Black Peters go unnoticed, because there are many people dressed like them. And of course, no adult believes that Sinterklaas really exists. That's a terrible mistake! Worse yet, the children are led to believe that he is a kind man who gives them gifts.
Technical data
The film comes from Holland. Dick Maas was its writer and director, Parachute Pictures the production company. It premiered in 2011.
When I was looking for information about it, I found out that they gave it bad reviews. I don't know, I think it was funny.
It won an award at the Sitges festival in 2011.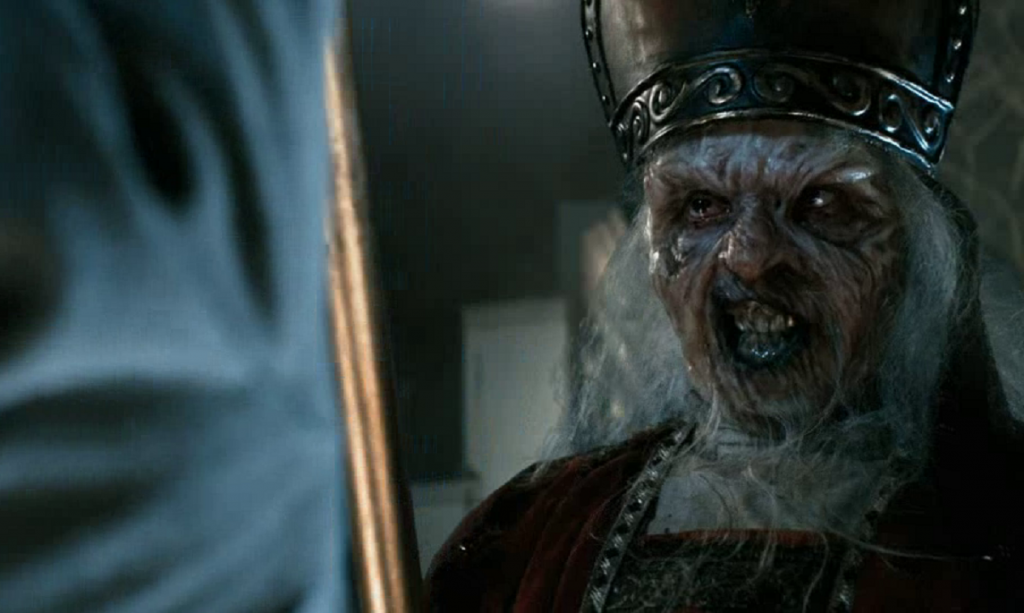 Controversy
Children were not allowed to see the film, but the posters showed Sint with a mutilated face and an evil expression. Some parents worried that the concept would be confusing and, above all, terrifying, for children who still believed in Sinterklaas. In October 2010 they initiated a legal demand. They asked all the posters be removed. Dick Maas' statement: Since the parents were leading their children to believe that Sinterklaas exists, they could tell them that the Sint on the poster was not the real Sinterklaas. And the judge agreed with him. Personally, I can't believe the judge took the case seriously in the first place.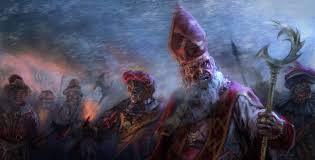 The Plot
Everything begins in the past, in the year 1968. Goert, the eldest son of a family of farmers, saw Sint on the roof of his house and his Black Peters entering through the chimney. That night, little Goert lost his entire family, killed by Sint and his henchmen.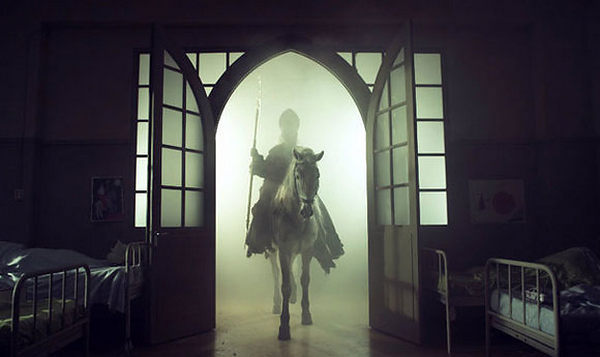 42 years later, Goert has become an Amsterdam policeman. Every year when December 5 coincides with the full moon, he tries to convince the authorities to ban all activities related to Sinterklaas and increase surveillance, but no one takes him seriously.
There's a shocking scene where another character comments something about how many people are dress up as Sinterklaas in those days. To this comment, Goert replies "I would recognize the real one anywhere."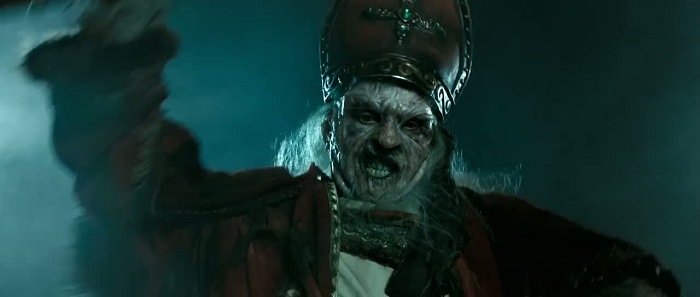 At the same time, we meet Frank, a high school student from a rich family, whose girlfriend just left him. While he's driving to a party, a gang attacks he and his friends. Frank defeats them, but fails to save his friends. The police believe that he killed them. At the same time, his ex-girlfriend is found dead and the police blame him. Frank tells his side of the story but the police don't believe him.
But when the police takes him to prison, Sint attacks the patrol and only he survives. On his escape, he meets Goert, who explains everything to him. He tells him that he has been investigating the case for years, that the authorities are covering up Sint's crimes and that the Catholic Church is complicit.
Together, they make a plan to destroy Sint and his Black Peters. Will they succeed? You'll have to watch it to find out.
Here's the trailer:
Bibliography:
https://en.wikipedia.org/wiki/Sint
---
My comic book, "My First Job" is now available in my e-shop:
Also available on the following platforms:
---
---